Dolyn and Zachary envisioned a wedding filled with love and celebration in a rustic chic setting. To set the tone for their day, the couple worked with our Brooklyn store to create their Alder inspired wedding invitations. Botanical elements throughout the suite nodded towards their Stonover Farm venue. They opted for a monochromatic color palette in Vine letterpress ink which kept all pieces consistent as well as clean. They freed their set of any script accents by using a serif font throughout instead. After the invitations are sealed and delivered, it's time for the party to begin! Finally, we will let the couple take it from here to tell us more about their big day:
Q: HOW DID YOU CHOOSE YOUR INVITATION DESIGN & INK COLORS?

A: I knew that I wanted our wedding to have green and white florals early on. I'm not a huge fan of bright colors and I wanted to compliment the beauty of our Berkshires venue. At our first invitation meeting, I instantly fell in love with a design that was similar to our website, then we just made a few edits to fit our aesthetic. One of our favorite elements was our details card. It felt super unique and was such a fun way to include all the information for our events (welcome reception, wedding, and brunch) in one place. Our suite really spoke to our whole "rustic chic" aesthetic. It wasn't too formal, but still had a simple elegance to it and felt like it really fit our venue.

Q: CAN YOU SHARE WITH US A BIT ABOUT YOUR WEDDING AND YOUR INSPIRATION FOR THE EVENT?
A: The most important thing to us is that our wedding is fun and filled with love. My husband and I went to college together and still have a tight-knit group of friends from school who all love to party together. So we set out to make a weekend-long celebration with that in mind. We had a welcome cocktail party with lobster rolls, tacos, sushi, and old-school ice cream cups. It was a casual vibe filled with tons of hilarious speeches and great mingling to kick off the weekend. On Saturday we didn't want anything to feel too formal. We had energetic music as we walked down the aisle – everyone was cheering and having fun. Our band kept everyone on the dance floor – where we did the limbo, my husband crowd-surfed, and the barn floor shook. The aesthetic was "rustic chic" – which, to us, meant a combination of casual and elegant. Even though our main goal was to have fun, we still wanted it to feel like a wedding and have some of that traditional decor.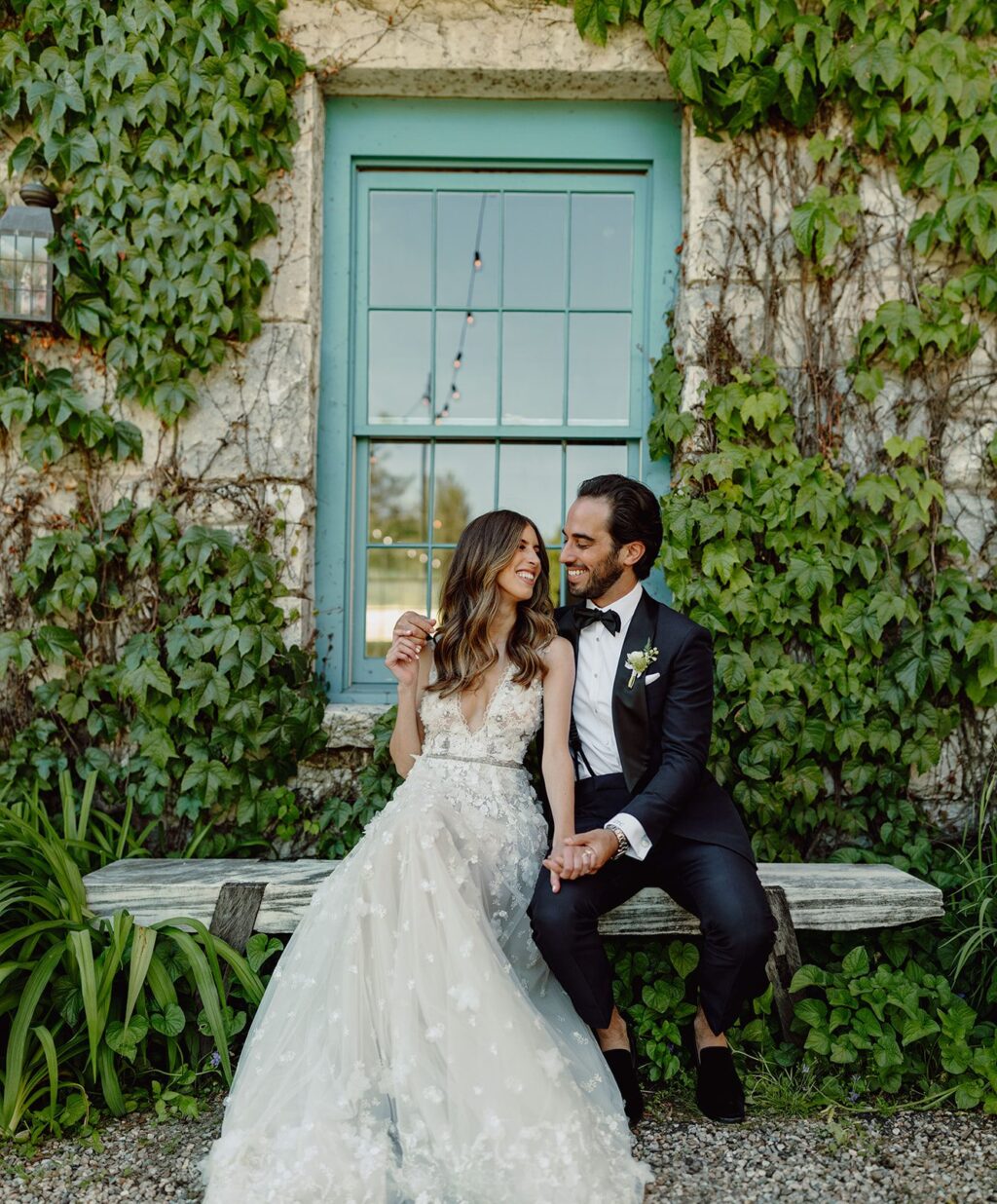 Q: WHAT ADVICE DO YOU HAVE FOR COUPLES CURRENTLY PLANNING A WEDDING?

A: Use Instagram as inspiration! I found almost all of my vendors (and even my venue) there…including Bella Figura. Give yourself plenty of time to search around and allow yourself to go down a rabbit hole. Maybe find a venue you like and figure out which florists, photographers, or planners created the content you love. Collect photos of weddings you love so that you can present them to your vendors and are able to clearly define the vibe you're going for. If you start thinking about what's important to you and what aesthetics you respond to early (even before you get engaged) – then you won't feel rushed into making decisions.
Q: WHAT WAS YOUR FAVORITE MOMENT?
A: We had two very clear favorite moments: our ceremony and our first dance. Our rabbi was a long-standing friend of my family who went to great lengths to personalize our ceremony. The nuptials included details of our love story, hand-picked blessings, and our own vows. It really felt like a celebration of our relationship. I was hesitant about writing my own vows because I hate public speaking, but couldn't have been happier that we did. Our first dance song was You're The One by Greta Van Fleet. We agonized for months to find the perfect song and then randomly stumbled upon You're The One a few days before the deadline to finalize the music. It felt so right for us and was the perfect romantic way to kick off the party.

Q: WHAT SURPRISED YOU MOST ABOUT YOUR WEDDING?
A: I was most surprised by the fact that the little things that went wrong didn't really matter in the moment. No matter how much you plan, something unexpected is bound to happen. But we included so many of our favorite things throughout our wedding weekend that it felt like a fool-proof way to be super happy throughout. It's easy to get carried away with the planning process – but, in the moment, all I cared about was celebrating with my new husband and our friends and family.
Venue: Stonover Farm | Catering & Event Management: Mezze Catering & Events | Lighting: Encore Audio | Florist: Crocus Hale | Photography: Mark Spooner | Videography: Kiss the Bride | Dress: Liz Martinez | Tuxedo: Suit Supply | Hair: Nikki Avanzino | Makeup: Josephine Kong | Rentals: Classical Tents | Band: Atomic Funk Project